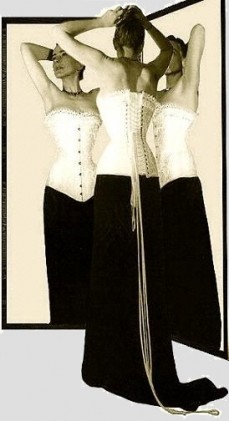 The tighter a garment is to be designed and manufactured, the more the pretension to individual wishes and individual body-propor- tions of the customer are to be in my personal focus.
During a consultation all necessary measurements will be taken and registered into a drawing.
With a preliminarily manufactured corset, based on the taken data and made of twill, the fit gets checked and, if necessary, adjusted. So I can guaranty at least the proper fit of the corset and fulfil the customer's objectives to the expected optimum.
The manufacturing of the final corset will be started not earlier than the corset-model is accepted by the customer. So modification of the final corset can be avoided to a negligible minimum.
The optimized cut will take care, that the customer gets the feeling of being 'at home' with her/his corset. According to individual body-size and body-shape a waist reduction of 10 to 15 cm shall be possible - also for an untrained person - if some certain necessities of body-proportions are observed.
To use thin leather and other fine fabrics all corsets are constructed from three layers of fabric, the outer fabric from silk, brocade or leather, an inner lining layer of strong cotton fabric called 'Twill', and a lining from cotton fabric or silkmaterial, that gives a significantly higher comfort of usage. For additional reinforcement a strip of cotton twill tape is sewn completely into the waistline, so that the used material is able to withstand the enormous traction
All Corsets are boned with spiral steel bones and/or spring steel bones. Unless other equipments are wanted, all corsets are equipped with a front busk fastening-system, an integrated planchette and are all laced up in the back. Additionally, a lacing-plait, made of the same material as the corset-surface, can be integrated. This lacing-plait is just underneath the lacing area, covering the wearer's skin against squeezing-marks and creates also a nice harmonic gape-closure. On request a hand-made inner silken lining can be integrated, which is replaceable at all times and improves the wearing comfort.