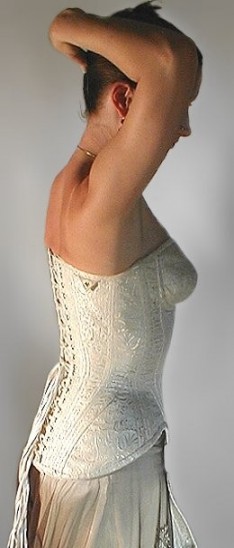 Generally it can be stated : romanticism comes back into focus of fashion : Now it is IN again to follow this fashion-trend. So adaptations of these fashion-styles out of the 'Siecle Grandezza' and the 'Belle Époque' are used much more often for the up-to-day-design of a bodice, and also for a Rococo-Corset, a Straight-Front-Corset or for an S-Line-Corset.
These creations allow wearing them purpose-oriented as a base garment as well as a fashionable bodice on top of a formal evening gown.
The trend of the complete fashionable gown is designed as a multiple-part-gown, so they are wearable after the day of the wedding ceremony additionally at other occasions. They are made with removable train or a buttoned shawl with laces and the fabrics like tulle, lace or organza are used in combination with pearls or strass for decoration.
Wedding-corset "Alexis"
Copyright Sabine Zieseniss
The newest trend of colors at the moment are 'Champaign', 'Ivory' and 'Cream '. An increasing numbers of brides have the confidence to order colored gowns and/or adapted corsets. The color 'White' is out of focus now. Also soft colors like 'Caramel' for instance or hand made paintings with the basic-colors 'Pastel-Green' or 'Pink' are dominating the trend today. Also embroidered soft flowers, made of colored fabrics, enjoy great popularity for the dress at the most important day of a bride's life